---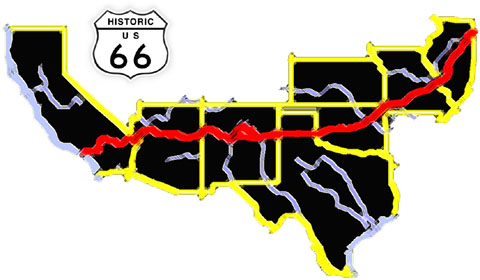 In June of 1997 we took a little trip, down to California across the Mississip'. Starting in downtown Chicago, IL, we headed west down Old Route 66 all the way to Santa Monica, CA. It was 9 days of adventure and discovery in our 1966 Mustang, which fortunately has air conditioning (temps hit 117 in the Mojave Desert). We did learn a few things; one of which is that no matter how many photos you think you are taking, it isn't enough, shoot more. We found large gaps in our photo record (like Sante Fe, Albuquerque, and Flagstaff).
We did most of the road again in 1999, but did it eastbound this time. We also concentrated on the 'Bones of the Road' pieces; Cuervo Cutoff, Padre Canyon, and the Jericho Gap.
Since then we have revisited sections almost every year to pick up a little more in-depth experiences and now that we live in Flagstaff, AZ we have the opportunity for numerous day-trips in NM, AZ, and CA.
Due to the number of pics, we have broken them up by state. Click on the map above or on the state below to jump to the pics. These pages are "graphics intensive" so if you are on a dial-up connection, you will have to be patient.
Enjoy the trip!
---
Apple QuickTime required to view some content.